#5 Cash-Back Bonuses
When you personally sponsor a new Member with one of our Cash-Back Value Packages*, you earn a bonus of $25 to as much as $250 (or more) for each package sold.

In addition, each package contributes pay volume (PV) to your Dual Team Organization which helps you earn more money through future pay cycles. On top of that, all of Xooma's Cash Back packages contribute 100 RR volume to help qualify you for the lucrative Rapid Rewards bonus program.
Gift Card Program
Imagine being able to build your Xooma business by giving away gift cards that are worth $50 in free Xooma products. It's fun. It's easy. And it can be very lucrative!
Give $50 – Get Paid $50 (Or More)
When you give someone a $50 Gift Card, Xooma will pay you a minimum of a $50 Cash Bonus – and as much as a $250 Bonus every time one of your gift cards is redeemed by one of your prospects. So, no matter how much or how little business experience you have, you can successfully promote Xooma's products and business plan to others – and get paid to do it. If you think it's easier to give something away than it is to sell something, this program is for YOU!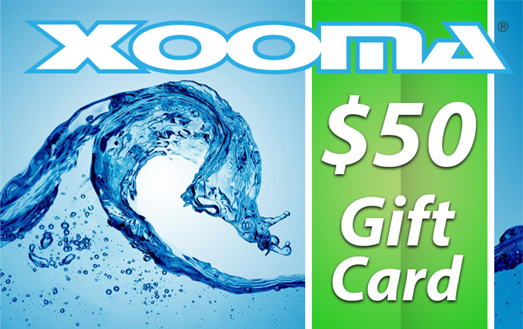 How It Works
Your initial purchase of a Cash Back Gift Card Package automatically includes a set number of gift cards for you to give away to others. Each of your gift cards will have their own unique code and can be used/issued as often as you want within 30 days (or until they are redeemed).
Simply share the $50 gift card code with your prospect utilizing a pre-loaded, professionally written email from your Gift Card Management System. Your prospect then has 72 hours to use the gift card and claim their $50 worth of free Xooma products. When the Gift Card is redeemed, you not only receive a $50 - $250 Cash Bonus, you also receive a new $50 gift card to replace the one that was redeemed.
So, every time someone redeems one of your gift cards, you're rewarded with a NEW $50 gift card to share with someone else – in addition to the commissions you earn.
AND NOW, WITH YOUR FREE REPLICATED XOOMA WEBSITE, THIS ENTIRE PROCESS IS COMPLETELY AUTOMATED.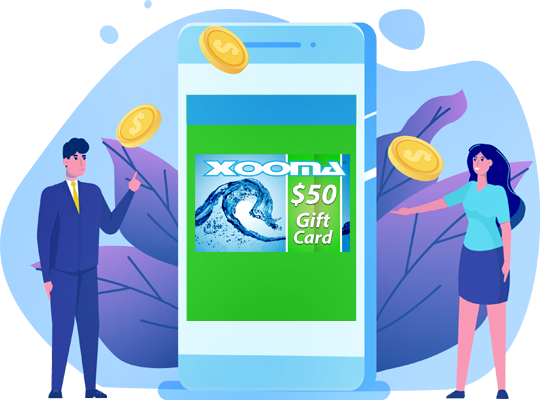 Example Gift Card Cash-Back Package Options
| Package | Retail Value | New Member Price with $50 Gift card | PV | Number of $50 Gift Cards | Cash Back Bonus |
| --- | --- | --- | --- | --- | --- |
| #9100 Consumer Pack | $350.00 | $199.99 | 80 | 4 | $50 |
| #9101 National Mgr. Builder Pack | $755.00 | $499.99 | 240 | 10 | $125 |
| #9104 Business Development Pack | $1885.00 | $999.99 | 480 | 20 | $250 |
*Cash-Back Bonuses are paid whenever a Cash-Back Value Package is sold. To participate in this income stream, a one-time purchase of any Cash-Back Value Package and an active 5-week qualification order of 100QV is required. The purchase of a qualified Gift Card Cash-Back Package will qualify you for Cash-Back Bonuses on both Standard Cash-Back Value Packages and on Gift Card Cash-Back Packages.
* Income Disclaimer: As with any business, your results may vary, and will be based on your individual efforts to build and grow a Xooma business. There are guarantees and assurances concerning the level of success and income you may experience. Your ability to attain the results shown in this example will be dependent on the time, energy and efforts you devote to your business.