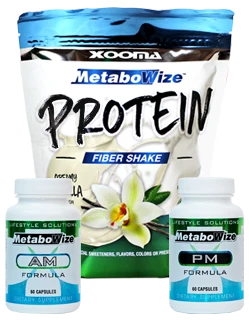 MetaboWize™ AM Formula
The MetaboWize AM Formula is a proprietary metabolic, thyroid and mood support formula. It helps stimulate your metabolism throughout the morning and early afternoon by working to elevate the brain chemical norepinephrine and by optimizing the body's methylation process. The body is then encouraged to burn more body fat and create more energy. It also contains nutrients that work to optimize the functioning of the thyroid gland, which is imperative to a healthy metabolism.
Benefits with MetaboWize AM Formula
Helps stimulate the metabolism - by enhancing norepinephrine production, the natural feel good/fat loss chemical.
Contains nutrients that work to optimize - the functioning of the thyroid gland, which is imperative to ensure a healthy metabolism and mood.
Helps repair, renew and reactivate - muscle cells to optimize metabolic function as well as help stimulate effective methylation - the biochemical process imperative to good health, fat loss and healthy brain chemistry.
MetaboWize™ PM Formula
The MetaboWize PM Formula is a proprietary evening stress-reducing sleep support formula. It helps control cortisol which is often associated with a dysfunctional metabolism, poor health and obesity. It also contains nutrients that help to boost levels of the feel-good brain chemical serotonin, which is necessary for effective relaxation, deep sleep, craving control and fat loss.
Sleep researchers from Cornell University have found that at least half of the American population is chronically sleep-deprived and at least 56 percent of the US population complains about daytime drowsiness. In fact, similar statistics are now being reported in many other countries around the world. Research presented in the Archives of Internal Medicine, shows that insufficient sleep decreases metabolism, leading to overweight problems and obesity.
Benefits with MetaboWize PM Formula
Helps maintain optimal sleeping metabolic rates - providing the ability to effectively burn calories while sleeping.
Helps reduce excess stress hormones - primarily cortisol, which interferes with deep restorative sleep.
Helps repair, renew and reactivate muscle cells - to optimize metabolic function decreasing the likelihood of daytime drowsiness.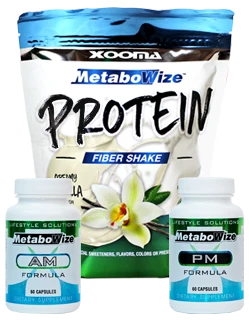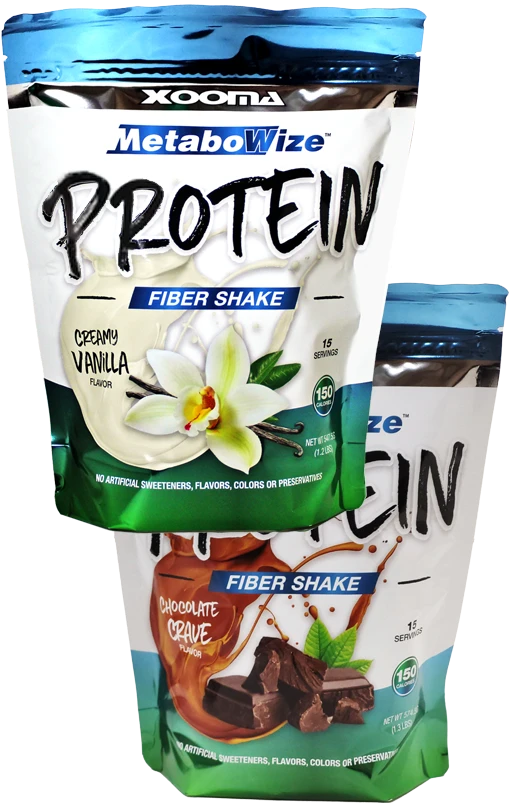 MetaboWize™ Protein Fiber Shake
The MetaboWize Protein Fiber Shake is a premium level formula that delivers outstanding results. It contains 20 grams of high quality, easy-to-absorb protein that helps increase and maintain lean muscle mass while also promoting effective fat loss.
In fact, the MetaboWize whey protein is derived from grass-fed cows which are not treated with antibiotics or growth hormones and it is virtually lactose and casein-free.
The one-of-a-kind specialized fiber blend within the MetaboWize shake consists of fibers that expand upon delivery to the stomach, ultimately helping to further curb appetite and cravings.
The other fibers work as a food source for healthy bacteria, which are required to maintain optimal digestion, absorption of nutrients and proper elimination.
Benefits with the MetaboWize Protein Fiber Shake
Helps control the absorption of dietary sugars, thereby optimizing insulin function and limiting fat storage.
Helps control the satiety response between meals in order to help people feel full longer.
Helps optimize glucagon production in order to allow more body fat to be burned as fuel.
The Wize Choice For You
THOUSANDS OF PEOPLE have already transformed their body and now it's your turn. Through this comprehensive, advanced and all-natural program – you can Reshape Your Body and Transform Your Life!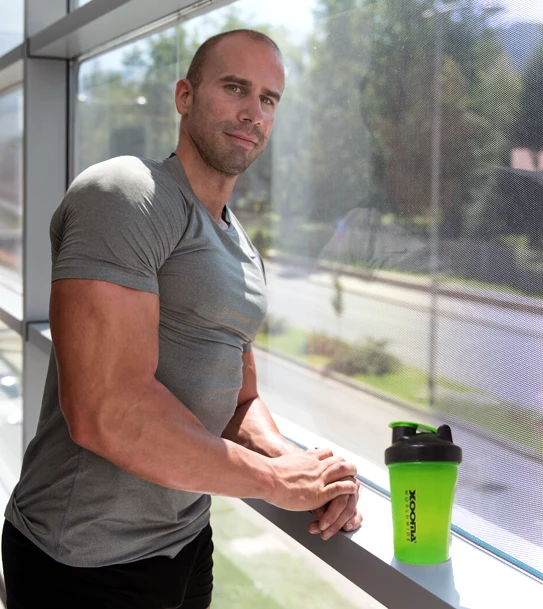 MetaboWize Nutrition Facts
Serving Size: 1 Level Scoops (36.5g)

Servings Per Container: 15

Amount Per Serving
% Daily Value*
Calories
150
Total Fat
3.5 g
4%
Saturated Fat
1 g
5%
Trans Fat
0g
Cholestrol
50 mg
17%
Sodium
340 mg
15%
Total Carbohydrate
8 g
3%
Dietary Fiber
4 g
14%
Sugars
2 g
Protein
21 g
Vitamin D
0 mcg
0%
Calcium
114 mg
8%
Iron
0 mg
0%
Potassium
89 mg
2%
*The % Daily Value tells you how much a nutrient in a serving of food contributes to a daily diet. 2,000 calories a day is used for general nutrition advice
Ingredients: Whey Protein Blend (Whey Protein Concentrate, Why Protein Isolate, Soya Lecithin) Sunflower Oil Creamer (Sunflower Oil, maltodextrin, sodium caseinate, mono & diglycerides [with citric acid to preserve freshness], tocopherols, and tri-calcium phosphate, Inulin, Agave Inulin, Natural Falvors, Salt, Stevoil Glycoside [Rebaudi side-MI], Lactase)
Allergens: Contains Milk, Soy