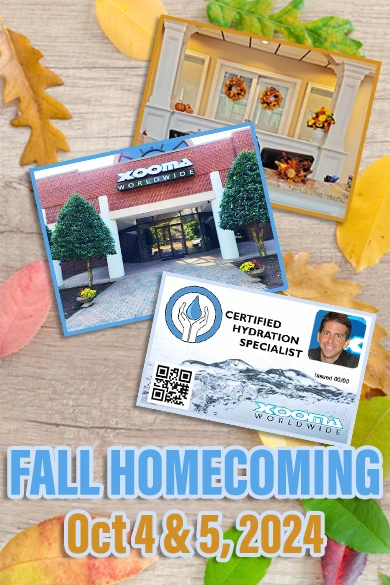 Xooma's Certified Hydration Specialist (CHS) Events
Stay tuned for your next opportunity to get certified, be listed in Xooma's website back office and open new doors to grow your Xooma business. Attend and you will get these benefits:
Enjoy more creditability for your Xooma business when you present yourself as a Certified Hydration Specialist
Unlock more opportunities to educate people on the amazing health benefits of X2O
Generate more sales, customers, and team members in your Xooma business
This certification was created specifically to help you reach more people and grow your business. Don't miss out on being a part of it!
Training at this event will include:
Everything you need to know (and all supplies) to do a full Water Demo
Learning how Xooma's X2O water compares to today's water sources (bottled water, tap water, and other sources)
Viewing before and after picturesof the impact of X2O water
Learning more about several key Xooma products
Receiving an official CHS Kit(includes Water Demo Kit, procedural guides, educational booklet, X2O samples, and more), along with a Certificate and ID Card
LOCATION
To Be Announced
EVENT TICKETS
To Be Announced